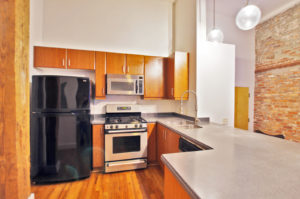 I have a treat for you if you are in the market to buy a loft!  We have managed this unit for the past 5 years and I absolutely fell in love it.  I think it has such a nice homey feeling to it, a good vibe…Trust me, there is a lot of places that I go into that I walk away feeling a bit creeped out!  But this loft, which is located at Market Lofts in Castleberry Hill is not one of them!  It has an excellent floorplan too, easy to work with especially if you have large living room furniture.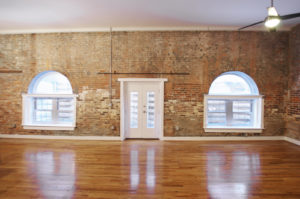 Of course, if you are into cooking you are going to want a gas stove, which it does have AND gas is included in the monthly HOA fee!  Nice!  It also has hardwood floors throughout, and they are REAL hardwoods, none of that fakey fake stuff!  The bathroom is a nice size and even has a garden tub. The bedroom provides enough privacy if you need to get away from your significant other for a time being or to hide because they want you to go out on that enormous enclosed patio to water all the flower pots or maybe they want you to organize the laundry room shelves because they go all the way to the ceiling which provides a ton of storage!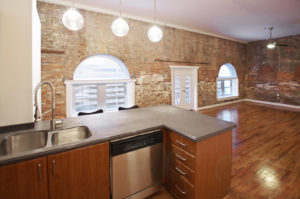 Castleberry Hill is on fuego right now!  Fuego – means fire in case you don't know Spanish like I do!  Falcon fan? No prob..stadium is right there.  Hawks fan?  Sweet…cause their stadium is right there too.  Concert goer?  Even better, cause concerts are always happening at either stadiums.   Let's see…what else is going on over there….oh yeah…Amazon headquarters COULD possibly go in to the gultch..If that happens, you are then sitting on a gold mine!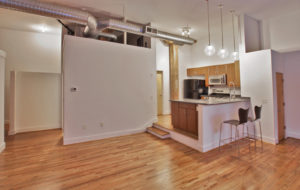 Market Lofts is a nice small community with gated parking and they have a rooftop terrace.  Situated near restaurants and plenty more!
Priced at $219k with close to 1000 sq.ft. and monthly HOA fees are only $248/month!
Want a tour?  Great! Hit me up at 404-579-9307 or [email protected] –  Nesa Kleinheksel with 9 Mile Trolley Realty – The Loft Stop